Seniors Ministry
Bukit Arang Planters
Welcome to Bukit Arang's seniors ministry! Our goal is to enable our seniors (anyone above 65 years old) to grow towards King Jesus through the reading of God's Word, singing and fellowship. Planters meets every fortnight on Saturdays from 4-530pm in level 5 of the N building.
Join us for the next Planters fellowship that is happening on 3rd July at Bethesda Centre Level 5 (N5) 4pm! 
Yearly highlights
Special Programmes
Here at Planters, we want to encourage our seniors to participate in various initiatives. Every year, Bukit Arang organises the following special programmes:
– Planters Health Talks
– Planters Walks
– The Big Sing
– Planters Life's Big Questions
At Bukit Arang, we strive to love and care for our seniors through regular home visits to journey together with them in the Lord.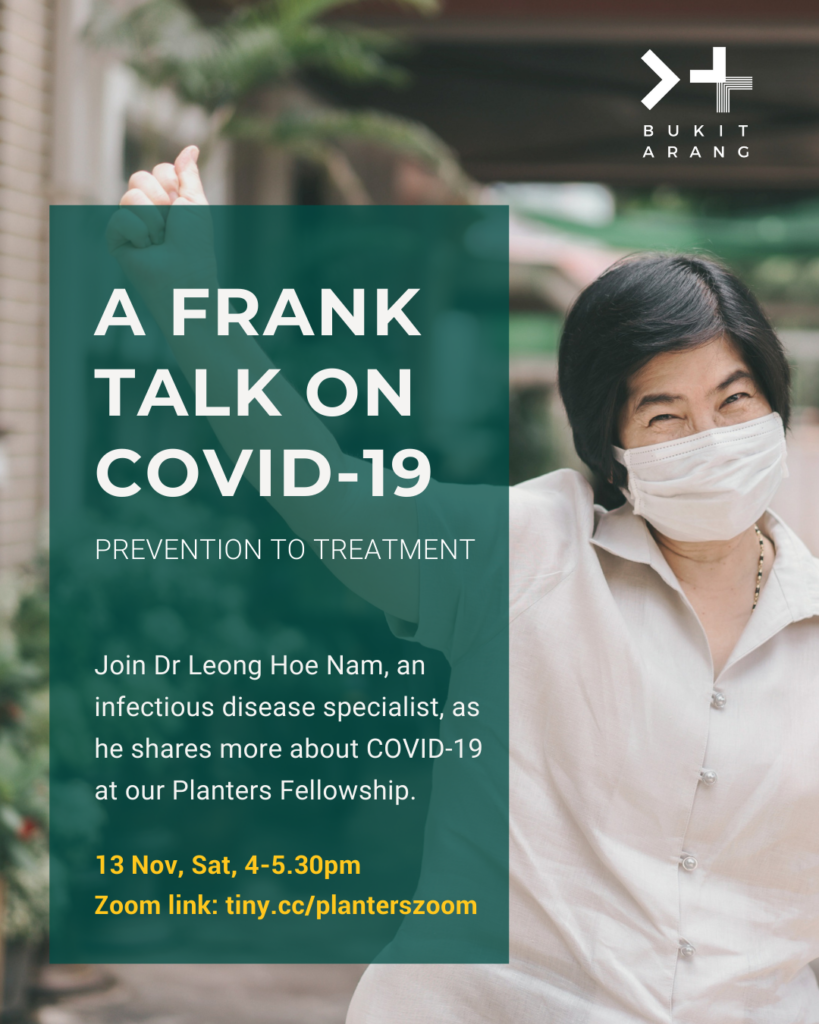 Planters Special Talk – Saturday, 13 November, 4pm via Zoom: tiny.cc/planterszoom
A FRANK TALK ON COVID-19: PREVENTION TO TREATMENT
In this Covid season, many of us might be understandably concerned about the health and safety of our elderly loved ones.
At the next Planters Fellowship meeting on 13 November, our seniors will be listening to "A Frank Talk on Covid-19: Prevention to Treatment" by Dr. Leong Hoe Nam, an infectious disease specialist from Mount Elizabeth hospital.
This virtual event is also open to church members who have elderly family members and friends who may wish to learn about what it means to shift from living in a pandemic to an endemic state.
If you have any questions on this subject, please submit them beforehand by WhatsApp to Huiqi @ 92398778 latest by 3 November.
We'd love you to join us!